Book Sales Reflect Consumer Demand for Information that Mainstream Media Is Unwilling to Ai
Charlotte, North Carolina (PRWEB) July 6, 2010 — It's rare for new authors to become best sellers quickly, yet that's exactly what Dr. Rashid A. Buttar has done with his book, "The 9 Steps to Keep the Doctor Away: Simple Actions to Shift Your Body and Mind to Optimum Health for Greater Longevity".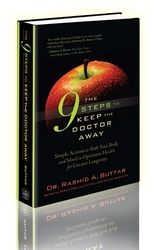 The 9 Steps to Keep the Doctor Away
The book reached the best seller list on Amazon.com, reaching No. 6 in overall sales (as well as No. 1 in the categories of Health, Body and Mind, Personal Health and Healthy Living) and hit the USA Today best seller list, all within a few weeks of being released.
"The 9 Steps to Keep the Doctor Away" is a unique program Dr. Buttar developed during almost 15 years of working directly with patients while running one of the largest integrative medical centers in the United States. With a strong emphasis on detoxification, immune modulation and optimizing physiology as the foundation of health, the book details a process anyone can use to maintain or return to optimum health WITHOUT the use of pharmaceuticals.
Dr. Buttar is considered an innovative medical leader among his peers and routinely lectures around the world. He heads up a number of medical societies and has been ranked among the top 50 doctors in the USA by Phillips Publishing, Healthy Directions, Inc. and Dr. Steven Sinatra. After his Congressional testimony in 2004, he especially gained wide spread international recognition with his innovative work in Autism by the removal of toxic heavy metals.
He has received extensive media exposure over the course of his career, including the Wall Street Journal, The Washington Post, The New York Times, U.S. News and World Report, Fox News and many others. Recently however – despite an overwhelming interest – several popular media outlets have actively solicited Dr. Buttar and then surprisingly chosen not to publish the interviews conducted or air the footage they've filmed.
For instance, Time Magazine interviewed him in early 2009, yet did not publish any portion of the recorded interview. 20/20 spent days filming at Dr. Buttar's office in the winter of 2009 and again in the spring of 2010 but have never aired a single minute of the extensive footage. PBS Frontline sent a team to spend an entire day with Dr. Buttar on February 1st, 2010, interviewing him and several of his patients for over 7 hours. However, when they aired their show, "The Vaccine War" on April 27th of this year, they didn't include any of Dr. Buttar's interview or extensive footage filmed.
However, whether it's the media's reluctance to air this potentially explosive information or they are being coerced to prevent it from being released, the efforts to suppress this information may well have been in vain.
"The public is finally ready for this life-changing information, whether the media is ready to present it or not," Dr. Buttar said. "I believe that's why the book has become a best seller so quickly, and for that I am truly grateful."
In "The 9 Steps to Keep the Doctor Away", much of this so-called "controversial" information is revealed and the possible motive for suppressing it becomes clear – and the public is taking notice.
"This is one of the scariest, yet inspiring books I've read in a long time!" writes Irene Watson for Reader Views. "For me, this is one of the most important books at this time and I would personally guarantee that anyone who picks up it up will get a similar response as I did."
Another reviewer on Amazon writes, "I can't say enough about this book. It's shocking, alarming, eye-opening and entertaining, but most importantly…EMPOWERING. It will make you understand the power to change your health really IS in YOUR HANDS."
In a time when health care is failing and the US is ranked worst among the developed nations (https://www.drbuttar.com/?p=1229) as reported by HealthDay, this book seems to provide the only viable and practical solution. Either way, the success of "The 9 Steps to Keep the Doctor Away" is a sign that consumers are dissatisfied with the status quo and ready for the truth on the subject of real health and real solutions.
Dr. Buttar's powerful message has already created an international demand, with books selling in 38 countries and foreign translation rights requested in Portuguese, Korean, Turkish, Arabic and French. In the end, Dr. Buttar is grateful to all those who have made the book a success.
"I truly appreciate all who supported the book with their purchase and endorsements and I'm grateful for the wonderful team who helped make this a reality," he said. "Without them, this never would have been possible. This is just another step toward 'making the change the world is waiting for', and is further validation that we're continuing to stay on the right path."
Dr. Rashid A. Buttar is a graduate of the University of Osteopathic Medicine and Health Sciences, College of Medicine and Surgery. He trained in General Surgery and Emergency Medicine and served as Brigade Surgeon and Director of Emergency Medicine while serving in the U.S. Army. Dr. Buttar is board certified in Clinical Metal Toxicology, Preventive Medicine, is board eligible in Emergency Medicine and has achieved fellowship status in three separate medical societies.
Additional information about the Center for Advanced Medical and Clinical Research can be found at www.DrButtar.com. For more Information and details regarding Dr. Buttar's new book titled, "The 9 Steps to Keep the Doctor Away," visit www.The9Steps.com. The book is also available through all major book stores and can be ordered through major online book outlets.
httpv://www.youtube.com/watch?v=WkUc8-yE4vY&feature=player_embedded
http://www.prweb.com/releases/2010/07/prweb4224774.htm
###