On August 25, 2014, join Dr. Buttar and other practitioners on a 3 day journey to discovering how you can take charge of diffusing your metabolic time bomb–something you may not even know you have!
Silent killers may be banding together inside your body and setting you on an invisible collision course for excessive weight gain, obesity, high blood pressure, diabetes, heart disease, fatty liver disease, Alzheimer's and some cancers. Learn why online from August 25-27, 2014, for FREE!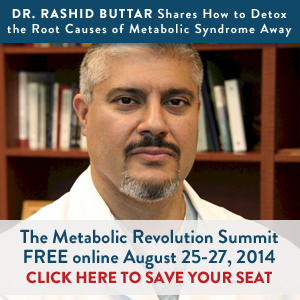 Dr. Buttar presents on Monday, August 25th.
55 million Americans have a #metabolic dysfunction… and FEW KNOW IT. Attend the FREE Metabolic Revolution Summit online and diffuse your ticking time bomb NOW!
Unsightly belly fat, high blood pressure, missing meals? You might have a metabolism issue! Fortunately, you can discover more online at The Metabolic Revolution Summit from August 25-27 for FREE!
If you register today, you'll have access to the following FREE GIFT as soon as you register!
FREE REGISTRATION GIFT: Mp3 combo: 6 Free Sessions of recorded presentations from Reversing Diabetes World Summit 2014
Register FREE Now – CLICK HERE